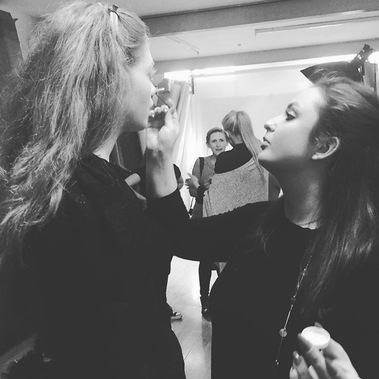 About
Sarah was born and raised in Switzerland. Interested in art, design and cinema from a young age, and always fascinated by the fashion and beauty industry - she knew she was destined for the creative field.
She moved to London UK when she was 17 years old to train at the world-class Delamar Academy of Makeup and Hair at Ealing Studios.
A selection of her work includes fashion and editorial shoots, music videos, fashion shows, commercial shoots, short films, as well as private clients wanting to look their best.

Currently, Sarah is based in Zurich, Switzerland.
If you have any questions regarding work or require information about her services, please don't hesitate to contact her.

Editorial

Chasseur, Elléments, Fucking Young!, HUF, Jungle, Jute, KALTBLUT, Liike, Linear, Linger, L'Officiel Switzerland, Lucy's, MODO, Noctis, No Substance, NR Magazine, Oh Comely, Playhaus, Schön!, Storm, Superhero, Vogue Italia (Photo Vogue), Volt Café, VULKAN

Commercial
Embellished Truth, ESL Gaming, Hellavagirl, Maasai Colour, Marriott Hotels International, TableLink App, Maison Veuve Clicquot

Music
EofE - "Get Caught", Hana Oceans - "Borders", Turpai - "Bottom Lip"
Photographers
Benjamin Glean, Chiara Ceci, Christian Cassiel, Clare Setian, Danika Magdalena (Sirius Film), Darren Skene, Dean Martindale, Domante Kaminskaite, Drew Shearwood, Eve Power, Glensius, Indrek Galetin, Greg Lin Jiajie, John Sansom, Josh Auke, Lauren Mustoe, Lucian Hunziker, Marcin Leszczynski, Morgan Ellis Williams, Nadia Ryder, Roy Brandys, Thanos Poulimenos, Thea Baddiley, Tina Eisen, Vic Lentaigne, Zuzia Zawada